Rukšu bog is the only concentric bog in Latvia – it looks just like the labyrinth of the Minotaur (the lakes of the bog are arranged in a circle from the center of the bog to the edges). This is a TOP 3 route which is not difficult, but very full of fun and nerve-wracking places. The bog lakes here are particularly deep, but the water is warm and gentle. Be sure to bring your swimwear and a towel to cool off in one of the lakes even on an autumn day. There is a parking lot at the edge of the bog. By the way, not only many cranberries are waiting for you in Rukšu bog, but also a geocatch.
The hike is expected to be easy – the moss carpet will be flat, without bumps that could be a stumbling block, but the base will still be undulating so that even ripples will form in places. Yes, dads with children will have something to enjoy here, at the same time, the more cautious will be able to bypass scarier places. Age is not an obstacle if you are used to hiking. Bogshoes are suitable for both adults with size 48 shoes and children from 6 years of age.
As always, we will help you discover the secrets of the swamps, and bogshoes will allow you to go where it would otherwise be difficult or even impossible. This will be a great opportunity to learn about hiking with bog/snowshoes, overcome the fear of swamps in a comfortable and safe way, have a great time in nature and listen to fascinating stories.
APPLY FOR THE HIKE: by writing info@purvubrideji.lv
(indicate number of participants, shoe size and contact telephone number)
If you have any questions, call +371 20120101
Description of the hike:
Duration: 2-3 hours
Difficulty level: easy (for beginners)
Meeting place and time: at 12:00 in the parking lot near Ruksu bog
Closing time: around 15:00
Participation fee for the hike: 20 EUR; 10 EUR (7-17 years). Sign up for the newsletter and receive a 10% discount.
Bring: snacks and drinking water
Wear: hiking shoes or rubber boots
Costs include:

Preparation of the hiking route
Delivery and rental of bog shoes
Many years of experience, knowledge and support of guides
Getting there
By car: click on the link to open the coordinates of the destination in the navigation application, if using waze or google maps, or using coordinates 57.599250, 22.361833
What it looks like in a bog: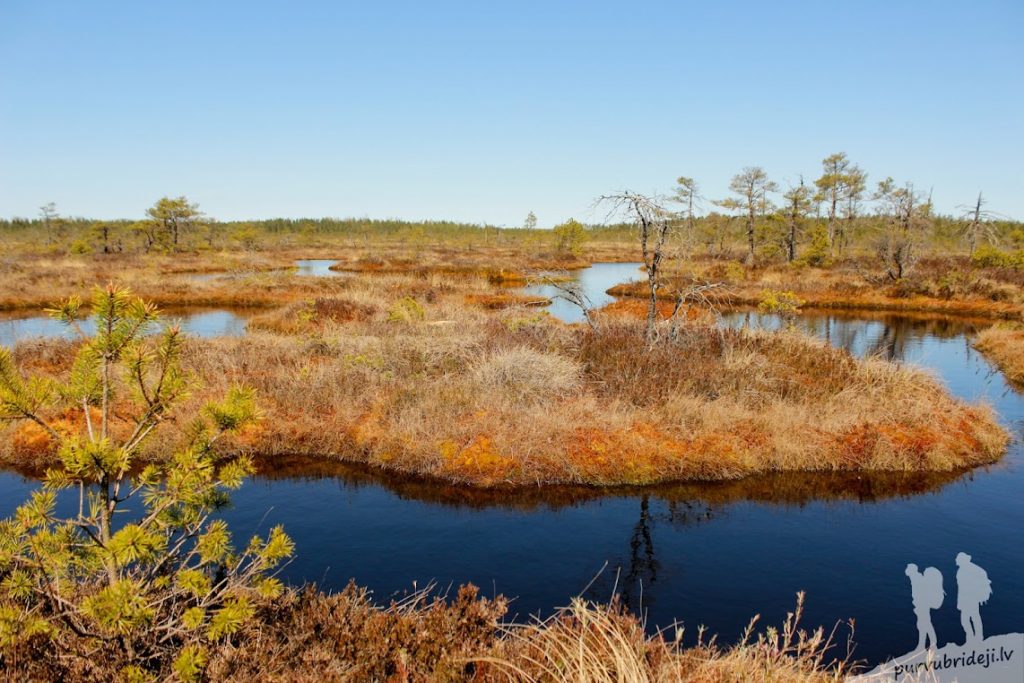 * By participating in the hike, you agree to the publication of photos on the social networks of purvubrideji.lv.
* The hiking regulations can be found here.
* The route leads through protected nature areas